I only have two days left before my last year in high school starts. No more free time. No more do-whatever-you-like days... No more fun time playing card games (speed, pusoy dos, in-between,etc.) with my cousins. No more bonding days with my family... It will soon be gloomy days at school, jotting down notes about the new set of teachers' rules and regulations etc... Okay... It might not be that bad! Let's think positive!

Let's look at the brighter side! It could be a week of new learning, instead... Plus, I'd be able to meet my friends again... (though i only got few) :p

I still can't help but feel scared that I won't be assigned in the class I used to be in. I even dreamed of seeing the list of the class I used to be in. I tried to find my surname. It was not there! It was heart breaking. T T It would really be sad for me if that happens. But it's really comforting how i get told "i miss you" a lot of times in ym by friends i haven't been seeing or talking to lately. One even told me that if ever we don't get assigned to the same class again, God might have better plans for me. Thanks so much!

If only I have a TimE-TuRner like this...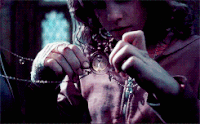 (from harrypotter.wikia.com)

I'm a loyal fan of Harry Potter btw!*grins*